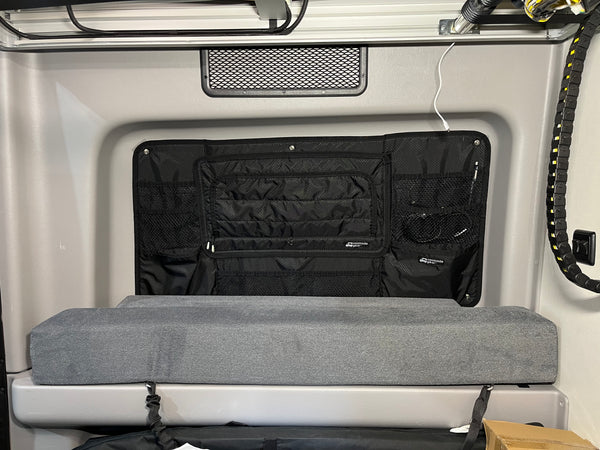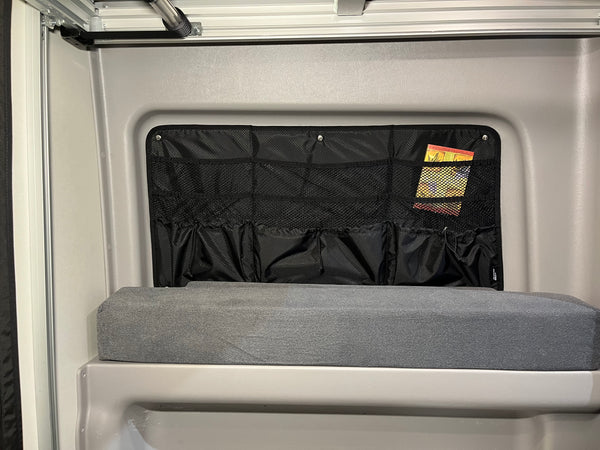 The bedroom area of a Revel has little to no practical storage for small personal belongings. Glasses, books, wallets, keys, socks, flashlights, laptops, etc. Here's our solution!
Introducing one of our latest products, the Revel Nightstand. Improve your organization significantly, in bed 😏
Compatible with or without our Revel Bunk Window Shade. Sold separately or as a set. Attaches via adhesive bolts for a non-intrusive installation. If keeping stock window frame, it will need to be removed during installation then re-installed, otherwise Vanmade Gear bunk window shade attaches directly via Velcro.
Driver side only: 8 small/medium pockets (6 mesh, 2 non-mesh), key chain hook

Passenger side only: 9 large pockets (6 mesh, 3 non-mesh w/ drawstring)
Driver side + bunk shade includes driver side nightstand and bunk shade that replaces stick window frame.
Choose Complete Set to include the bunk shade that replaces the stock window frame. This will give you the full experience of improved organization, extra headroom, 100% blackout, and thermal insulation!