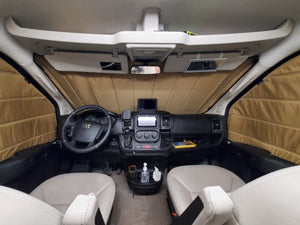 Secure Your Privacy
We know that this van is your home, and you need to feel at ease at the end of the day. Even when you're away from the rig, it's best to be sure that the outside world can't see in. At all.
With this much privacy you could sleep in all day long, or even use the van as a film processing lab. Although we have to recommend keeping the vent fan running!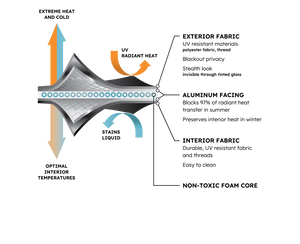 Ensure Your Comfort
We build your gear with the best materials we can find, including durable nontoxic coverings and automotive grade, aluminum-backed insulation.
This means that UV rays and 97% of radiant heat gets blocked out on a hot day, so you can hang out inside. It also means that in the winter you can warm up the van and trust that our shades will keep the heat in better than any others.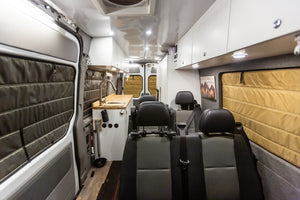 Keep A Low Profile
Sometimes you just want to pass through town without drawing attention to yourself. Choose a black exterior material to maximize stealth.
Maybe you prefer to keep things flashy, or maybe you spend most of your time in the desert? Select our marine-grade reflective exterior for an exposed-foil finish and even better heat reflection.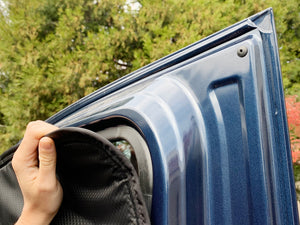 Intuitive Installation

Our shades go on and stay on. No drilling. No permanent alterations. No kidding!
Vanmade Gear just works.
We use powerful neodymium magnets to attach our shades to your windows so you can put them up and take them down in seconds.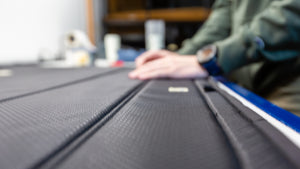 Compact Design
We've designed our window shades to roll up for storage without having to be removed. Many models even allow for a partial-opening usage, for those times when you just need a little ventilation.
All of our products are designed for minimal space, so they fold up nicely into a storage bag when they're not in use.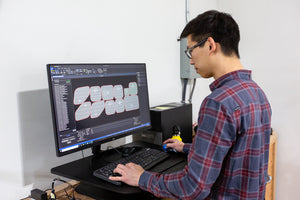 Tailored Fit
Every window has a slightly different shape, so every shade is customized perfectly to match the application.
We take detailed measurements of every new model and draft our templates digitally. We use a CNC router to cut all the materials, ensuring consistency, and all of our products are hand-sewn here in our studio for the ultimate quality control.